GO KART HIRE. Whether you're looking for a family outing or a fun ride with friends, our go-karts provide a fantastic way to enjoy Marlow Park's kids' bike playground to the fullest. Please note, these go-karts are not for use on the road and are not suitable for hills. Don't be mistaken these are also great fun for adults!
We highly recommend using this hire option at Dunedins Marlow Park (Click here for more info)

The Pickup Location is from our city location at 10 Harrow Street.
The karts can fit in the back of a ute and/or station wagon. They may also fit in a smaller sedan depending on car size, if you fold down the seats
Must be accompanied by an adult aged 18 or more when hiring for younger riders. Helmets are provided and must be worn.
Karts available to select from: Also refer to pictures which will help visually.

X2 Orange Style Three-wheeler Karts: Suitable for both adults and kids 8 years of age, as the seat is adjustable (slides forward to suit leg length for smaller or taller riders).
X1 Yellow/Green Larger Four-wheeler Kart: Suitable for both adults and kids 8 years of age. This kart includes a free baby/kids' seat attached on the rear.
X1 Smaller Three-Wheeler Kart: Specifically designed for younger ones aged 3-7, providing a safe and enjoyable experience
You generally get puffed a bit quicker depending on fitness levels, longer distance ride it is advised to not be in a rush and take your time, these are designed for leisure and when stopping to admire the harbour views the bonus is you don't have the fuss having to balance like do on a traditional bike.
Photo Gallery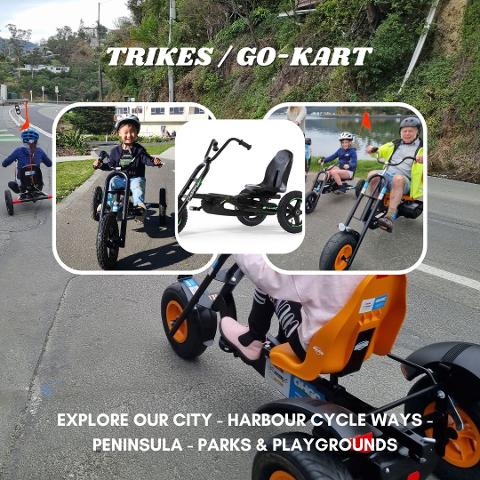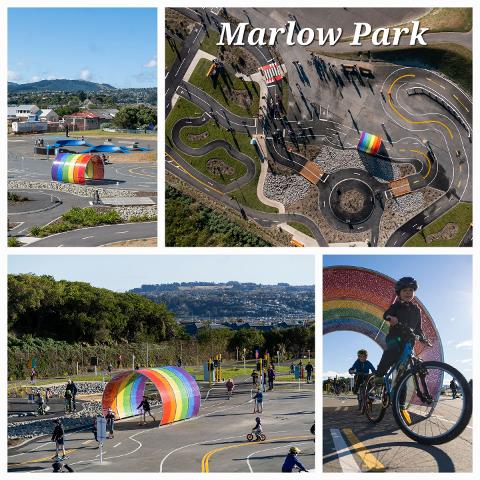 Terms and Conditions
Must be accompanied by adults (18 year age or more) at all times and must not use on the road. For cycle path between Vauxhall and Macandrew Road only.