Electric Bike Package - City Location to Port Chalmers includes Ferry Crossing with commentary as you cross over! Our team will collect the bikes from the Port for you! Start in the city, ride down to Portobello, cross Ferry and leave the bikes at the Port! (PERFECT FOR CRUISE SHIP PASSENGERS).

Any duration (full day) between 730am and 4pm (bikes can be collected from 730am at your leisure (great flexibility) then the bikes must be dropped at Port Chalmers at by 4pm (Booking instructions will provide more detail).


This amazing PACKAGE (Bike, Ferry Crossing with short commentary as you cross the harbour)
allows you to explore the Peninsular and the City before you head down the Harbour, stop off at amazing cafes on the way. Then cross the ferry having certainty. Commentary includes shipwrecks, birds, boats and more as we travel right through the centre of Dunedin's extinct volcano. Then ending your journey dropping the bikes at Port Chalmers (we collect for you), hop back on your Cruise Ship! Info about the Ferry can be found here
Port to Port
.
Ferry Crossing times that must cross from Portobello to Port Chalmers are 10am, 12:35 pm (may vary when busy to 1:15 pm and 3:15pm (pick from any 3 times).

Alternatively, you can go down the Port Chalmers side of the harbour and not do the ferry crossing, if you opt to do that please note that the price remains the same to cover the bike collection services.
Your Electric Bike (Giant Lafree E+ 2) Includes free helmet, cycle map (activity brochure), bike padlock which are all included + fresh filtered drinking water onsite to fill your water bottles.

Note generally riders need to be at least 150cm which is 4' '11" or taller. And you must be 16 years of age or older to use the E-Bikes.
You will collect the bikes from our self-serving (kiosk) at city location (10 Harrow Street) which is central to the City CBD and also located at the start of Harbour Cycle Loop, positioned to go either way (down Portobello direction or Port Chalmers). Plan ahead and lock in your booking here or take chances and rock up on the day. We strongly recommend booking ahead to secure your bike.
Once you book an email will immediately follow providing you with clear instructions on how to access bikes + a link to a safety video to watch on YouTube. There are no set times, you can pick up the bike at any time from 730am onwards provided it's on the same date you booked for. Bikes must be returned to match the duration you booked for. All hires must be returned by 4pm dropped off to Port Chalmers.

Our bikes are urban designed for the city, they have a step-through bar that adjusts to suit various sizes. All hire options include safety helmets that must be worn.

All other common questions, Tips on things to explore and places to see on your journey including more info about the bikes can be found on our ABOUT PAGE

Photo Gallery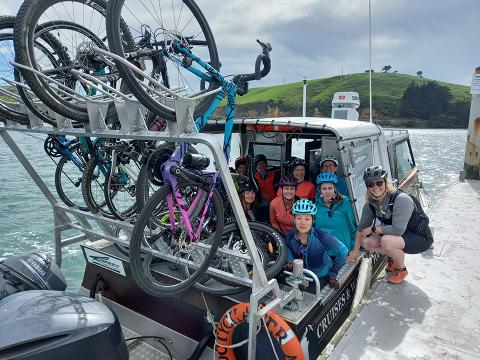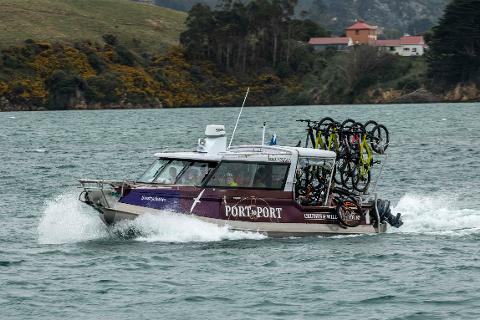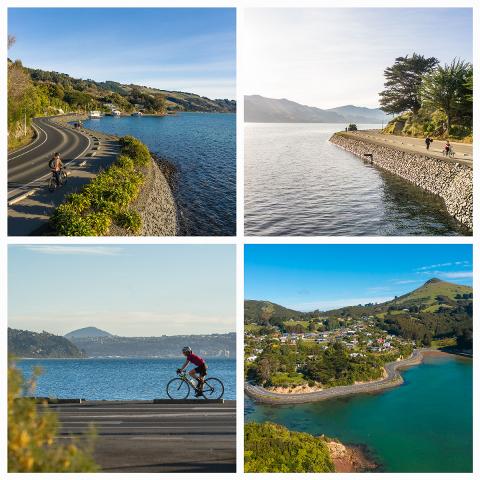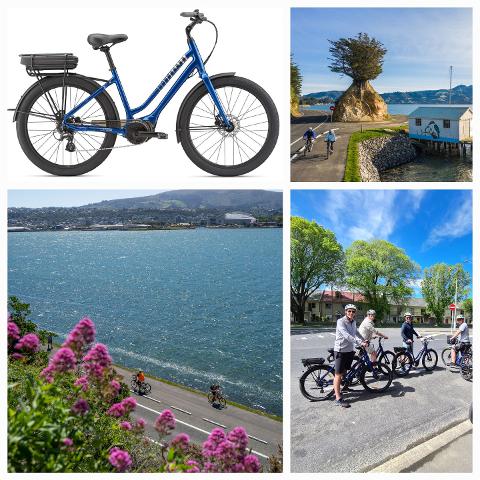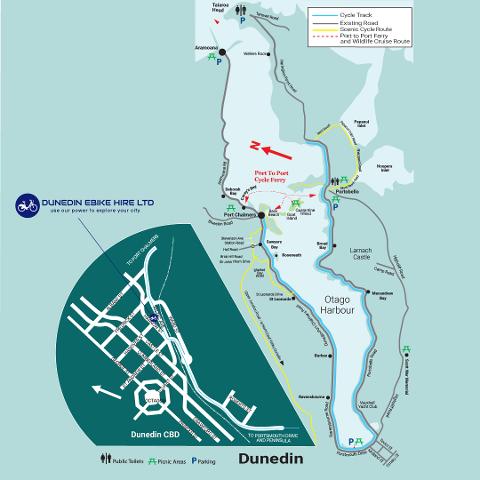 Terms and Conditions
Ferry crossing times may vary slightly for the midday crossings